Kennel was started in 1968 with our first German Shepherd in Kennel was started in 1968 with our first German Shepherd in Henderson,
Texas just outside of Longview. She was not show quality and probably
never should have been bred, but being the novice that I was, bred her
anyway. As I began to learn, "Fluffy" was taken off the brood bitch list
and I proceded to learn what to do. At that time, we had fun with our dogs
and the names were really bad. We had a Yorkdom's Pak grandson named
"Godzilla" - a black and silver, no less. A nice black bitch was
"Beautiful Soul Sister". She did get her CD title. During those early
years, I taught obedience in two different towns for three sessions each
year. Living in the beautiful Piney woods of East Texas, I stayed plenty
busy. Doing things on a shoestring, I managed to breed some nice puppies.
One in particular was out of Ch. Peddacres Uno, but I lost him to bloat - I
really did not get many breaks in those days. Due to a lack of a mentor, I
wandered away from shepherds and got into Great Danes. There I was guided by a great lady of Von Reisenhof Kennels, Ms Hazel Gregory. Of Course, I could not make it easy for myself and had a black foundation bitch who produced harlequin puppies. The best of the danes that I bred was
Tripphill's Komet who I lost at the age of three to a neighborhood
incident. I also got into Boviers with Rodon kennels in East Texas.
Together, we put many points on their dogs and founded a friendship that
went on for many years. Roy and Donna Larson were the owners and I did
much of the handliing. I finished three of my own Bouviers and many more
for the Larson's. They have since left breeding .

This bring us up to about 1979 when I almost got out of dogs. Finances
were very lean and we had to relocate twice in four months winding up here
in Austin. I bred one litter which produced Ch. Tripphill's Abraham(those
names again).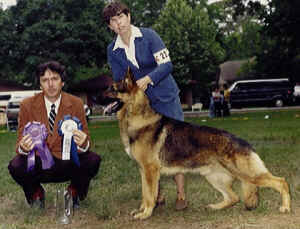 (Abraham)
Although I bred him, I was still such a novice as to not put myself on the papers as breeder. Using Rita Chapman as a handler, I was beginning to wonder if I would ever have a champion shepherd, not because of the handler, just because it is tough to finish a shepherd. The weekend I was going to quit dogs, he took a four point major at the Houston Specialty under Bob Hall. Needless to say, I was hooked and went on to finish "Ham" in 1982. I also acquired Verwusting Haus Nikon from Bob and
Nancy Jenkins finished her in 1983 under Helen Fisher. A humorous note on
Nikon, she was scared to death of the camera flash!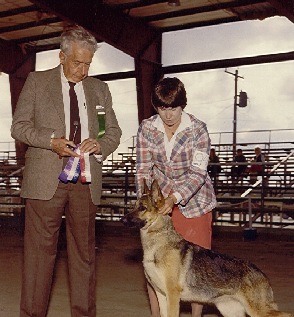 (Nikon)


Divorce, starting a business and raising a 7 year old slowed down my doggy
activities for awhile. In 1985, I relocated the kennel to the beautiful
hill country north of Austin and built my dream kennel.


My first litter at the new place produced Ch Tripphill's MacIntosh Ritarra who finished in 1994 and became my first champion to have bred. Incorporating the knowledge and dogs from Windwalker Kennels, I have successfully crossed that with Kaimacha to produce wonderful dogs. ChTripphill's Bernadette and Ch Tripphill's Dream Spinner are a credit to their ancestors and the first to finish with the new bloodlines. There are several coming right behind them. As you browse the website, please enjoy what I have been able to do with the help and dedication of the Kennel team.
)